Our Vision and Values

The Shrewsbury and Telford Hospital NHS Trust is an organisation that strives to provide high quality, safe care for our patients in an environment which our staff are proud to work in.
We believe that by adhering to our Vision and working with our Values in mind we can behave in a way which will ensure the right results for the people that matter most – our patients and their families.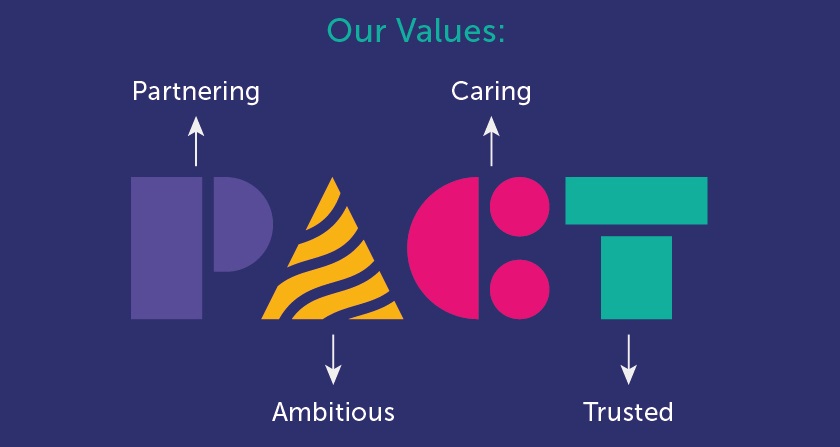 Our Values are:
Partnering – working effectively together with patients, families, colleagues, the local health and care system, universities and other stakeholders and through our improvement alliance.
Ambitious – setting and achieving high standards for ourselves personally and for the care we deliver, both today and in the future. Embracing innovation to continuously improve the quality and sustainability of our services.
Caring – showing compassion, respect and empathy for our patients, families and each other, caring about the difference we make for our community.
Trusted – open, transparent and reliable, continuously learning, doing our best to consistently deliver excellent care for our communities.
The first letter of each of our new Values spells PACT, which represents our joint commitment to embrace and live our Values.
Developing our long term objectives
Our strategic framework brings together our Mission, Vision and Values which drive our strategic plans. Therefore, the key elements within that framework are:
Vision – our aspiration for the future
Values – what we stand for
Strategy, Goals, Priorities and Objectives – how we will deliver value
This is all described in our Operational Plan which is currently being updated and will be available here soon.
All of our plans and decisions are developed from one overarching organising principle: Putting Patients First. As a result, our first thought has to be, what is right for the patient?
Organising Principle – the core principle that guides everything we do.
Our guiding principle is Putting Patients First.
At The Shrewsbury and Telford Hospital NHS Trust we all believe that our role as individuals and as an organisation is to provide the safest possible care, at the highest level of quality we can afford, using the best evidence of what provides the greatest benefit to patients.
We also know that the price of any failure of care is always paid by the patient, and their family. This may be experienced as avoidable harm, or unnecessary delay. We are convinced that by focusing on what patients need us to do we will do the best job we can.
We all want to put patients and their families first. This is the organising principle behind the way we manage the Trust. We believe 'putting patients first' is a simple and clear way to remember what we are all here to do.