SaTH is committed to creating a culture that puts Continuous Improvement at the forefront of our transformational journey and our aim is to empower colleagues at all levels to have the confidence, capability, passion, and knowledge, to test changes and make improvements at SaTH and the communities we serve.
Following a successful five-year partnership with the Virginia Mason Institute in the USA, SaTH continues to further develop and embed the Trust's approach to Continuous Improvement at all levels of the organisation. Colleagues are supported by an Improvement Hub, which provides the necessary expertise to support everyone make improvements, centred around the Model for Improvement which has been adopted widely within the NHS

Building Capability
The Improvement Hub has developed various initiatives to increase its capability, with the key component being an updated training programme which is accessible to all colleagues.
Training has been developed to incorporate many improvement tools & techniques that make up SaTH's Improvement method as follows: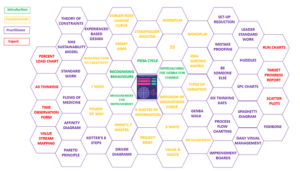 From this, the following courses have been established:
SaTH Improvement Introduction video (15 minutes)
SaTH Improvement Fundamentals course (1-day) designed to enable all colleagues engage with improvement
SaTH Improvement Practitioner course (6 months) designed to enable colleagues run individual and team improvement projects
Staff will be supported alongside their training by members of the Improvement Hub.  Additionally, there are online resources, including the provision of short "Bitesize" videos that covers every topic of SaTH's improvement method.
Improvement Hub
The Improvement Hub has been developed to provide a Business Consultancy approach to improvement. This ensures that all staff has access to expert guidance to support a culture of continuous improvement.
Highly trained in all aspects of our Continuous Improvement approach, the team provides appropriate blended training for all staff, aligned with appropriate levels of coaching and support, to ensure they utilise the tools effectively to meet their improvement objectives, that are aligned to the organisational strategy.  The current team are available to speak with anyone in the organisation about their improvement needs: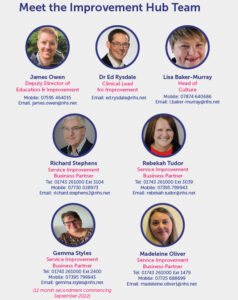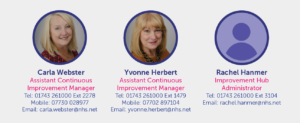 SaTH Improvement Sharing Huddles
To enable colleagues at all levels, showcase their improvements more widely, monthly SaTH Improvement Sharing Huddles have been established.  They will be held over Microsoft Teams in the first instance, with an option to be face-to- face, as the opportunity arises post Covid restrictions.  Additionally, the sessions may be recorded and made into Podcasts.  The aim of the huddle is for colleagues to come together and share the great improvement work they are undertaking.  Each huddle will be supported by our Executives and members of the Improvement Hub and therefore, will provide a great platform to elevate improvement projects, particularly, if colleagues are encountering any problems.  Importantly, it provides an opportunity to celebrate individuals and teams who are working hard to improve our processes for the benefit of our patients.
Annual SaTH Improvement sharing conference
To widen the recognition of our colleagues and showcase to a larger and broader audience, an annual sharing conference will be held each Spring, with the first one taking place on the 13th of May 2022.  This forum provides a great opportunity to celebrate and share the improvement work over the last 12 months from across the organisation; the top four improvement projects for the year will receive an award in special recognition for using SaTH's Improvement method.