Getting to Good Programme

The Getting to Good Programme is the key delivery programme for the organisation's priorities this year. The aim and focus for Phase 2 of the Getting to Good Programme is to embed improvements, create ownership and deliver sustainable change to support the organisation to achieve its overarching vision to provide excellent care to the communities we serve. 
Getting to Good, which is a three year improvement programme, incorporates 10 Getting to Good Programmes and 27 underlying projects, each of which is led by an Executive Director. The accountability for improvement and embedding the change remains with the Executive Director and is overseen through their own governance arrangements. Oversight is provided through the weekly Operational Delivery Group (ODG) which is responsible for tracking and monitoring progress to ensure delivery and achievement of successive milestones and maintain an accurate understanding of how the project is advancing according to the initial project plan.
Each of the ten Getting to Good Programmes of work are supported by colleagues from the Programme Management Office (PMO), Service Improvement Team, Communications, Performance Team and NHS England/Improvement (NHSE/I). This meeting is chaired by the SaTH Programme Director and updates from the ODG, report into the Executive Directors meeting, which is chaired by the SaTH Chief Executive and reported through to the Board of Directors by the Finance Director.
The nine Getting to Good Programmes and their 27 underlying projects are detailed in the table below. Each project has a set of objectives and measures, outlined in their individual PMO plan on a page. In addition, there are two other programmes of work which are jointly being led across the Integrated Care System and are detailed in the table below.
Furthermore, each programme described below has its own governance and assurance process. Getting to Good and Hospital Transformation governance processes are within SaTH. The Integrated Care System programme is via the Shropshire, Telford and Wrekin Integrated Care System.
The ten Getting to Good programmes and twenty-seven Getting to Good projects are: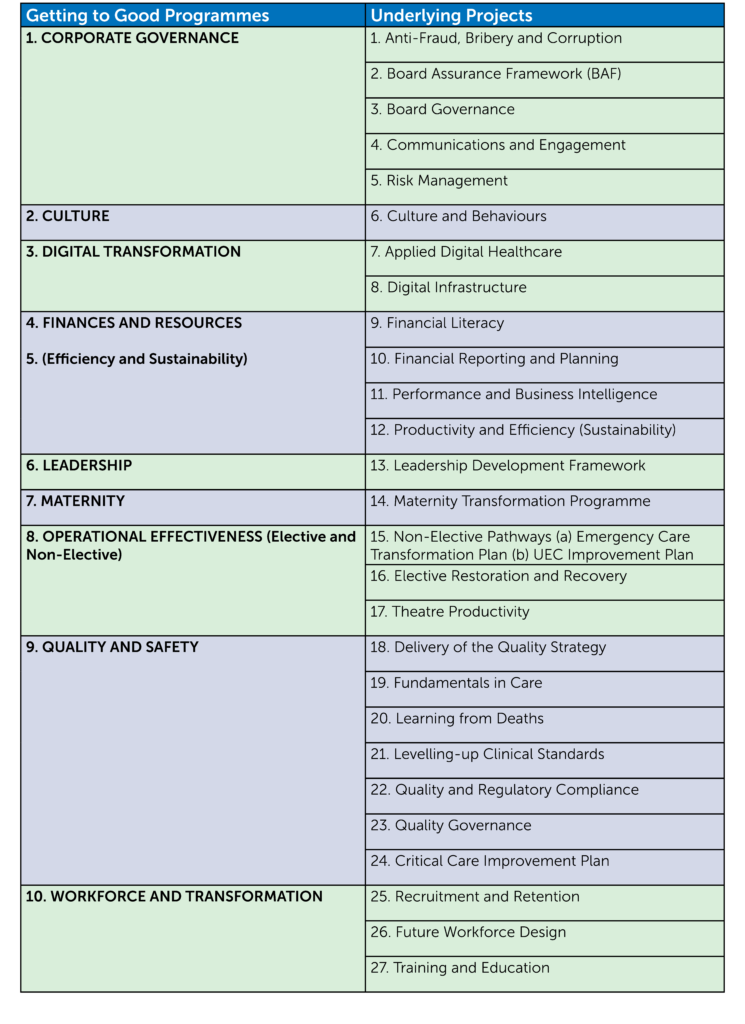 The three additional Getting to Good programmes are:

Key Deliverables in 2023 Include:
---
Lifting all Section 31s and providing evidence of 80% consistent compliance with the embedded changes.
Meeting all our regulatory requirements delivering all CQC "Must" and "Should" Do actions and regulatory conditions.
Completion of self-assessments for all core services as part of the regulatory compliance.
Implementing the Urgent and Emergency Care (UEC) Care Flow System.
To achieve the level 2 Future Focus Finance Accreditation status.
To improve culture, belonging, behaviours, communication and embed a shared vision throughout the Trust.
To improve long term planning of workforce resulting in a sustainable supply of high-quality staff, delivering safe staffing levels with a reduction in agency use and staff turnover.
To increase the board oversight of risks to support the decision-making processes.