Orthoptics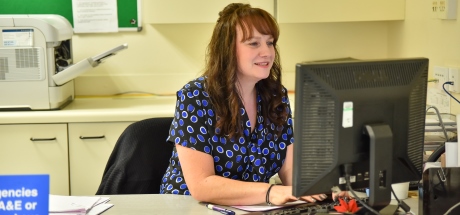 The Orthoptic Department specialises in seeing patients with a variety of eye problems including strabismus (squint), amblyopia (lazy eye), double vision and eye movement problems. We are specialists in assessing vision in patients of all ages and work closely in clinics with the Paediatric Ophthalmologist to assess children with all types of eye conditions.
We run the vision screening service for all children starting school in Shropshire and also manage many community clinics including Oswestry, Whitchurch, Market Drayton, Ludlow, Bridgnorth, Newtown and Welshpool.
We have speciality clinics in Literacy difficulties, Stroke, Low Vision, Glaucoma, Thyroid and Paediatric contact lenses. We also are involved in teaching undergraduate Orthoptists and regularly accommodate students for Orthoptic placements from The University of Liverpool, Sheffield and Glasgow Caledonian University.
Our Staff
Philippa Downes – Senior Orthoptist
Jane McLoughlin – Senior Orthoptist
Gwyneth Cliffe – Senior Orthoptist
Sue Vaggers – Senior Orthoptist
Becky Evans – Specialist Orthoptist
Anne Flynn – Specialist Orthoptist
Becky Pinches – Specialist Orthoptist
Charlotte Wood  – Specialist Orthoptist
James Clifford – Specialist Orthoptist
Kay Phillips – Orthoptic technician
Please visit the British and Irish Orthoptics Website for more information.
Key Info
---
Contact Us
General Orthoptic queries
Tel: 01743 261000 ext 3324
Appointments
Tel: 01743 261000 ext 1044
---
Interested in working with us?
For more information about vacancies in the Trust please visit our Belong to Something website.
---
Associated Wards and Services