Women's Services – Gynaecology and EPAS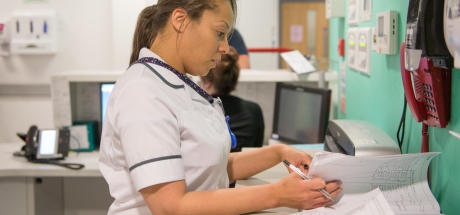 The Gynaecological Unit is situated on the first floor of the Shropshire Women and Children's Centre at Princess Royal Hospital. There are clear signposts to all wards and departments.
Philosophy of Care
The Gynaecological Unit provides a high standard of nursing and medical care to the women of Shropshire, Telford & Wrekin and mid Wales.
It is our aim to treat all women as individuals, acknowledge that they have unique expectations and unique physical, psychological, emotional and cultural needs.
We are committed to providing a quality service that provides care with courtesy, kindness and warmth for the women and their families. We recognise the need for privacy, dignity and confidentiality for women undergoing any aspect of gynaecological care.
Our Unit
There is open access to the main building during normal working hours for all services. Out of hours access is via the intercom system.  The Ward areas have secure access via intercom door system or locked keypad entrance.  Careful consideration is given to the security and access control to the entire centre to ensure the protection of patients, families and children.
We encourage individuals and their families to become involved in their care and make decisions based upon current research based information.
All clinical areas are accessed through the main Women and Children's Centre entrance.  Located in this area is;
The Main reception
A League of Friends shop
The Coffee Shop
Access to Postnatal, Antenatal and Delivery Suite
Access to main PRH Hospital street and Paediatric services
Toilet and baby changing facilities are available in the main foyer (including disabled).
Patient Information Leaflets
If you are unsure of your planned procedure, or if you have misplaced your leaflet, please contact the Gynaecology Medical Secretaries at the Princess Royal Hospital for up-to-date information (dial the main switchboard number on 01952 641222 and ask to be transferred).