Renal Dialysis Unit at The Princess Royal Hospital
---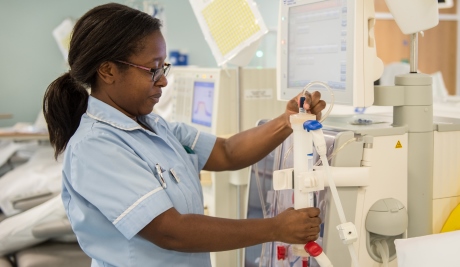 Welcome to Renal Dialysis Unit
The Renal Unit is an outpatient unit at the Princess Royal Hospital. We provide dialysis to regular patients, as well as those visiting the area on holiday.
The unit is made of up of 20 different dialysis stations, with each one having a TV that can be used with headphones or subtitles. We also have DVD players if patients wish to watch films.
In total around 20 members of staff work on the Unit, which is overseen by consultants Dr Chand and Dr Diwakar.
Key Info
---
Contact us
For general enquiries please contact:
Tel: 01952 641222
Ext: 4372 / 4373
Renal Vascular Access Sister
Julie Cooper – 01743 492441
---
Location
Princess Royal Hospital, Telford
---
Ward Management
Ward Manager: Heather Reece
Matron: Kirsty Sloan
---
Visiting Times
Please note: under national guidelines there are currently restrictions on people visiting our hospitals. Please see our Coronavirus page for more information.
Open visiting
---
Associated Services